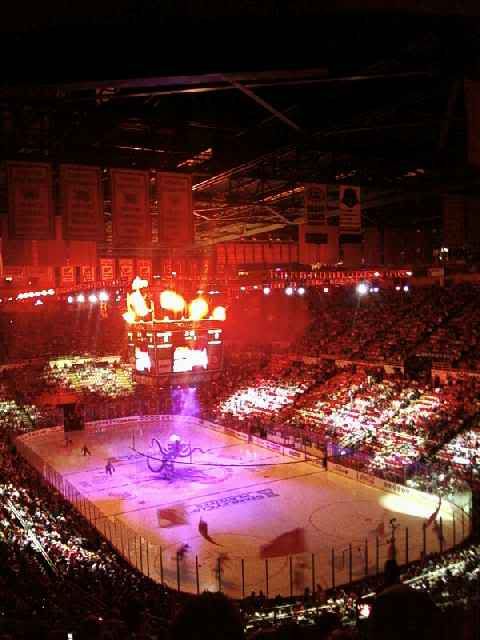 Okay, Hockeytown, time to relax. Your worst fears have been assuaged - this team is as hungry as ever. Your Red Wings want to repeat and have no intentions of settling for mediocrity. Nevermind what parts of this season looked like - the boys have turned it back on. Granted, it has to stay that way, but nobody can complain about the effort we saw last night at the Joe, and if they keep up that kind of energy, it's going to be a great trip through the playoffs.

Of course it didn't start out that way. In the first twenty minutes the Wings not only started off a bit flat, but also spent a tremendously frustrating amount of time in the penalty box, allowing the Blue Jackets a number of nice scoring chances. Lucky for them, however, at least one Wing had his head firmly in the game - Chris Osgood quickly stole the show, played with a swagger that suggested he at least had definitely turned it on for the playoffs. When Osgood's name was announced in the starting roster, the packed Joe Louis chanted the first round of "Oz-zie! Oz-zie!" - but it was tentative, hopeful but also nervous. Not so after the flurry of diving, sprawling saves he made to hold the score 0-0 after the first period.

Despite their success early on, the Blue Jackets, playing their first Game 1 ever, looked lost out on the ice for much of the game. Rookie goalie sensation Steve Mason couldn't save them from the swarming Red Wings once the team turned it on, and Osgood stole his Hot Goalie show, backstopping the Wings to a 4-1 victory. Osgood had some words to say about his performance in both this game and the regular season:

"I don't doubt myself ever," Osgood said. "People that don't know me do. I've played for 15 years. I have the most wins in Red Wings playoff history for a reason, not because I'm a bad goalie."
Exactly the sort of swagger you want to hear from your number one this time of year.
Osgood wasn't the only story of the game, of course. Rookie and NPI favorite
Jonathan Ericsson
scored the game winner
(although it was the Jackets'
Manny Malhotra
who effectively put it behind Mason), his first career playoff goal. The Wings' third line of
Jiri Hudler
,
Valtteri Filppula
, and
Mikael Samuelsson
was huge - Hudler had a goal and two assists, while Filppula notched two assists of his own.
The other Wings goals came from
Niklas Kronwall
and
Johan Franzen
, while Columbus' was scored by
RJ Umberger
.
If the Wings can keep up the pace they set in Game 1, the series could be over quicker than expected - the playoffs are here, and
the boys know it
:
"It's been hard to find excitement before the games," Franzen said, alluding to the Wings' 2-5-1 record over their final eight games. "We were really looking forward to this playoff start. You feel it in your body. Your legs get a lot faster. Everything's more exciting."
As infinitely frustrating as it is to watch your team flounder, looking disinterested and bored, it makes it that more invigorating to see them like they played last night. Hopefully they can keep it up as the playoffs progress, but for now, the goal is to pick up another victory tomorrow night, Game 2 at the Joe.
GO WINGS
.
(Besides, when the opposition is already
accusing you of cheating
, you know you're doing
something
right.)