Yesterday afternoon the Detroit Red Wings and 1.4 million of their greatest fans celebrated Lord Stanley's Cup coming back to Detroit after 6 long years (I know, I know, that really isn't a long period of time at all for something like this, but it was extra sweet for Wings fans after being expected to flounder some in the age of the salary cap to have rebuilt on the fly, capturing their 4th Cup in 11 years). I drove out with a few friends to spend the day in Detroit celebrating and it was totally worth the four hours total in a car and the $5.99 I just spent on aloe to soothe my horrible sunburn to see the team as happy and triumphant as they were. My friends and I managed to snag a nice elevated spot near the corner of Woodward and Congress to watch the whole parade, and then headed over to Hart Plaza for the rally afterward.

Some photos and highlights: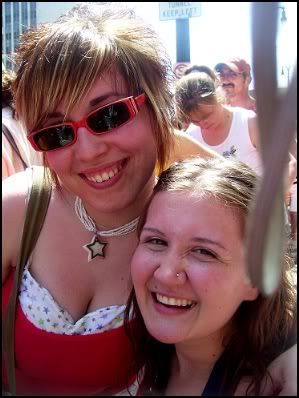 My friend and I at the start of the parade - you can imagine how sunburned I got.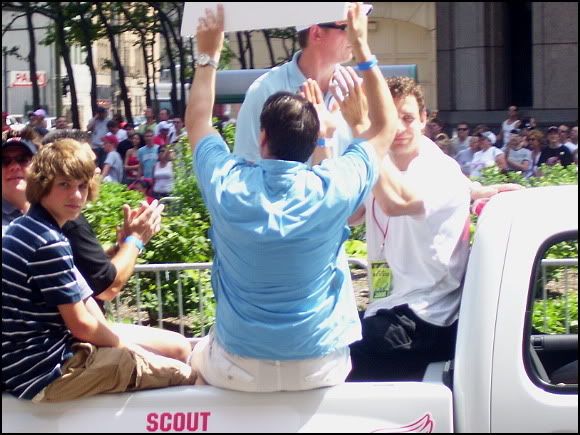 I was incredibly excited to see

Jiri Fischer

riding on out of the scouts' trucks - he'll get this name on the Stanley Cup for the second time, albeit for a very different position this time.
NPI Griffins favorite

Kyle Quincey

with

Mattias Ritola

- I wonder how it was decided that Ritola was the one to get his name on the truck over Quincey, who played more games both this and last season. He seemed to be thoroughly enjoying himself regardless.
My favorite from last season,

Jiri Hudler

, seemed to be having a blast - perhaps aided by some foreign liquid type substance - cheering, blowing kisses to the crowd, even at one point getting up on top of his truck. The best part, however, had to be his speech during the rally. I took a video of it, but this one (you can hear him after

Darren McCarty

) is much better:



Thank you, Jiri, for making me love you even more.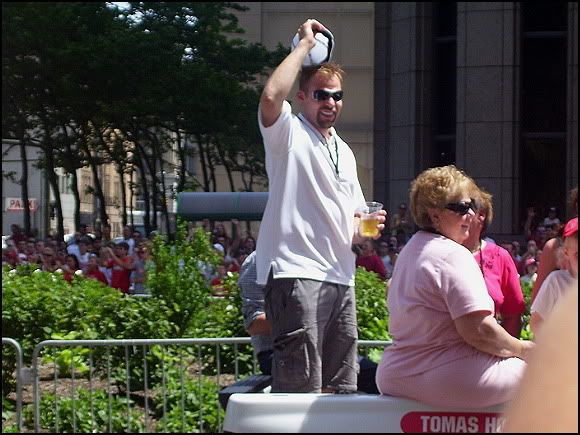 Tomas Holmstrom

tipped his hat and bowed to the fans.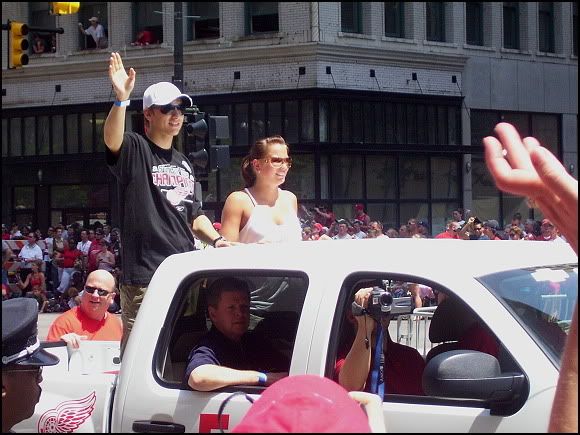 Valtteri Filppula
.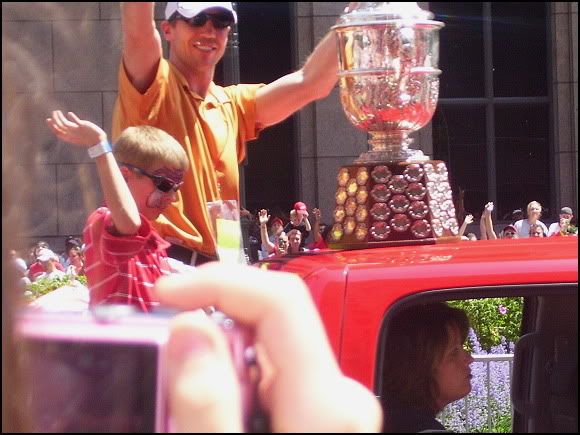 Dallas Drake

was given custody of the Clarence S. Campbell bowl for the duration of the parade.


Pavel Datsyuk

, with his wife and daughter, took care of the President's Trophy.
One of the best parts of the parade was seeing

Henrik Zetterberg

making his way down Woodward using the Conn Smythe trophy as a hat. It

was

sunny outside, but wasn't it a little heavy, Hank?


He did lift it to resounding cheers from the crowds, though.


And of course, captain

Nicklas Lidstrom

finished off the parade holding Lord Stanley high.


We were standing much farther back at the rally, but had the opportunity to get closer and take some pictures toward the very end, when the players were passing the up around up on stage and waiting for photo opportunities. I like that someone (

Derek Meech

is my guess) is assaulting

Niklas Kronwall

with a hug off to the right hand side.


Overall, the parade was a huge success and a lot of fun. Several other Wings got to speak at the rally, as well as coaches, owners, local broadcasters, and the like. Detroit Mayor

Kwame Kilpatrick

deigned to show up as well, although his speech - even his promise for free beer - was drowned out by the audiences resounding boos. Afterward the part went back to Cheli's Chili Bar, where apparently it got a bit raucous, as the Cup was dented during the festivities. Many of the local establishments expected to nearly double their usual intake for the day, which is great for a city like Detroit with its wobbly economy - and great for the team, as it shows just how devoted and proud its fans are.

I also want to extend a huge congrats to

Christy of

Behind the Jersey - I saw who I thought looked like her driving around a red corvette at the parade, and as it turns out, it was indeed! Sounds like an awesome day and a great opportunity.

Stay tuned for the adventures of the Cup this summer; NPI will be attempting to chronicle them as long as moving and working don't get too much in the way. And of course, Go Wings!