The post title seems to be the slogan the Wings are going with heading into these conference finals against the Dallas Stars - they were even giving T-Shirts emblazoned with it at the Joe for an impromptu red out. It's a fitting one, given the outcome of the game one, in which the Wings defeated the Stars 4-1 and took a 1-0 lead in the series.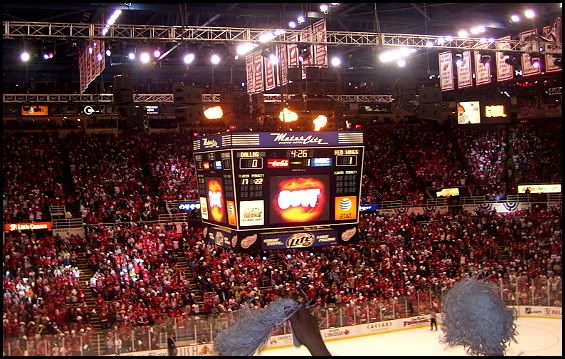 The new addition for this years' playoffs? Flames shooting from the scoreboard when a goal is scored. Awesome.
I was in attendance and didn't take any notes, so this may be a little sparse - but I made plenty of observations:
I'd be really interested in knowing how much time the Wings were in control of the puck vs the Stars. It seemed like, especially during a large chunk of the first and second, literally every time the Stars had possession you barely had the chance to hope they didn't take advantage of it before the puck was securely on a Wing's stick again. Maybe, as suggested by several sources included
Mike Babcock
, they were still feeling the effects of that Sunday night marathon, but the Stars showed a remarkable lack of skill in passing and puck control.
Similarly, we were told to fear the Dallas powerplay - which did look a little bit scary shortly into the first period when the Wings took an early penalty, but the second pp of the night was absolutely abysmal, and it didn't look too much better from then on. Dallas' only goal was scored at even strength. The Wings on the other hand, went 3 for 5 on the pp with only
Valtteri Filppula
's breakway goal coming at even strength. If their pp continues to click like this for the rest of the series they're going to be scary.
For Dallas to have a chance in this series, their best players really need to shine, and last night they all but didn't show up.
Brenden Morrow
scored the lone goal, which is a plus for them, as he's a force the Wings really need to be able to contain, given his play as of late. But
Brad Richards
? He was so unremarkable that I spent all night referring to him as "That guy with Fedorov's number" until I finally realized oh,
that's
him? - not impressive.
Despite the numbers,
Marty Turco
didn't look horrible - and while it was fun to chant Turrrrcoooo with the masses, you almost felt bad for him. The guys in front of him were majorly letting him down, and nothing he let in was a complete softie. Despite getting as many goals put up against him, he looked much better than
Jose Theodore
ever did last series. His stick save on
Henrik Zetterberg
's wraparound attempt - an almost sure goal - was awesome, and it forced
Chris Osgood
to make a quick brilliant save of his own to keep the flow of the game in our favor. However, he wasn't the goalie he'd been made out to be either, and the Stars are going to need him better if they
For the Wings, I thought
Dallas Drake
had a really good night. Twice I saw him make extremely nice takeaways - and both times until I saw his number I thought it had been
Pavel Datsyuk
, quite a compliment. Filppula looked really good as well, especially given his status was questionable after he twisted his leg in the last game against Colorado. Then again the entire Wings team seemed to be really in sync all evening long. They let off the gas a little at the end, but luckily the very frustrated Stars team was still unable to take advantage. Still, they're going to need to put out a full 60 minute effort to keep the series going the way it is now. Game two will be a completely different beast.
My photo gallery from the game (mainly shots from warmups) is
here
, but here are some of my favorites: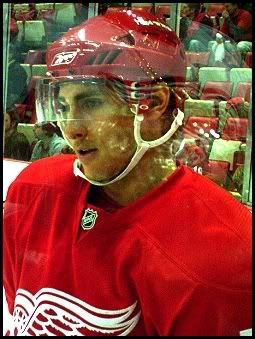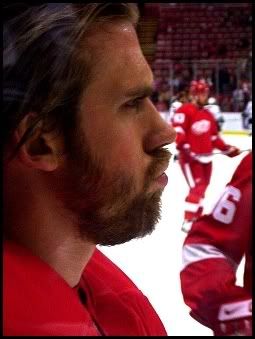 I have managed to pick up tickets to Game 2 (Saturday at 7:00 pm) as well, so expect more on Sunday, after the drive back to Kalamazoo! And of course,
GO WINGS
!