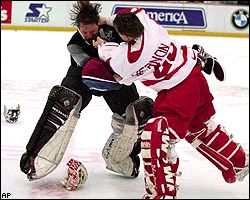 This series is going to be exciting if Wings and Avs fans have to literally block out reality in favor of making up stories about the ridiculous events that take place on the ice. Since the possibility arose at the end of the regular season the internet has been abuzz with the prospect of a "renewal of the rivalry." In the next few weeks the stills of Roy and Osgood, Roy and Vernon, Draper getting smushed, Lemieux turtling, and the like, will populate your TVs, newspapers, and the internet like you wouldn't (or maybe you would) believe. Will it happen? Who knows - it's probably unlikely. But with the return of Darren McCarty to the Wings and Adam Foote and Peter Forsberg to the Avs, you never know.

Either way the potential for this series to resemble the frustrating one we just saw is there as well - during the regular season both teams played a close, rough game against the Wings with a similar sort of physicality and attention to preventing the strong puck control game of the Wings from overpowering them. In the end, the Red Wings wound up 4-0 against them, sweeping the season series.

Keys to Winning:

Unfortunately for them, however, their last game against the Avalanche was played February 18th - a week and some before the arrival of their trade deadline additions. While there was some discussion about whether or not the addition of Peter Forsberg would pan out and be worth it despite his injury-prone late career days, but he has one goal and four assists so far in these playoffs and has played every game. Ruslan Salei has looked great in an Avs uniform as well, notching four points throughout the first few games, and Adam Foote has provided a veteran presence that certainly hasn't help the idea of this renewed rivalry. The Wings had less going on in terms of bringing in new players, but they did bring back a familiar face in McCarty, who despite being doubted has looked better than expected thus far, even picking up a goal in Game 2. Their one acqusition on trade deadline day, Brad Stuart, has been quietly excellent. Paired up with Nik Kronwall he's given the Wings a physically-minded second defensive pair that's pretty intimidating, something the Wings get picked on for their lack of quite a bit. Stuart may miss the first game of the series, however, as the Wings have given him permission to stay in LA with his wife while they wait out the birth of his second child - very classy and sweet on the part of the organization.

After the first round of the playoffs and watching Dominik Hasek struggle while Dan Ellis was stellar, the importance of solid goaltending has only been emphasized. The Wings have decided to keep going with Chris Osgood for the time being - a decision that's very hard to argue when you look at his stats from the two games he played in Round 1 (.981 SV%, .39 GAA). Luckily it seems like, while others have been quick to attribute the term to the situation, there continues to be a lack of "goalie controversy" between he and Hasek - something that could only hurt the team. For now, Ozzie is the guy, and looking at his season and his experience, there's no reason to worry. Meanwhile entrenched between the pipes, in a serious turn-around season, for the Avalanche is Jose Theodore. Despite his shaky past couple seasons, Theodore has been strong this year, showing shades of his ultra successful past in Montreal. He made his way through six games against Minnesota with a .940 SV% and a 1.88 GAA - not too shabby. Theodore is far from impenetrable though, and not unable to be rattled. The Wings didn't let Ellis steal a series for the Predators, and there's no reason to expect Theo to get away with it either.

Looking at the blueprints, it seems as though the series will be a tight, low-scoring game with lots of checking, and in all honesty the key to winning is more than likely the team who plays the hardest; who wants it the most. The Wings top-notch defense will be focused on the top two lines, but as it was Ryan Smyth and David Jones' gritty third line who won them the final game in Minnesota. The Wings will need to respond in kind with plenty of secondary scoring (something they've done well to this point, given that Jiri Hudler and Niklas Kronwall are both tied with Pavel Datsyuk for the top playoff scorer to this point) and more than a little grit and determination. It won't be an easy series, but neither was the last one - the Wings have got what it takes; they just need to use it.

Schedule:

Once again the TV schedule is less than brilliant:

Game 1

-- Thursday, April 24, 7:30 p.m. Colorado at Detroit VERSUS, TSN


Game 2

-- Saturday April 26, 3 p.m. Colorado at Detroit NBC, TSN


Game 3

-- Tuesday, April 29, 10 p.m. Detroit at Colorado VERSUS, TSN


Game 4

-- Thursday, May 1, 10 p.m. Detroit at Colorado VERSUS, TSN


x-Game 5

-- Saturday, May 3, 1 p.m. Colorado at Detroit NBC, TSN


x-Game 6

-- May 5, 10 p.m. Detroit at Colorado VERSUS, TSN


x-Game 7

-- Wednesday, May 7, TBD Colorado at Detroit TSN
Cable exclusivity sure is a pain - FSN will not be able to cover any of the games VS has dibs on this round. Also unfortunately for me at least, Game 1 falls during the last final of my undergraduate career - but for once I'm happy about NBC's scheduling. My commencement is at 6 pm on Saturday night so this afternoon matinee allows me to catch it after all.
Around the Web:
For updates on Detroit make sure to visit the following:
Radek Bonk
's name being bandied about wantonly. Game one is tomorrow night at 7:30 pm -
GO WINGS
!