On the way to the game yesterday evening, Andy and I were pulled over (don't drive five over the speed limit in Jackson, kids) by a cop who, upon looking in my car, pointed down at my (Hemsky) jersey, proclaimed himself to be a Wings fan and said, "They're gonna lose." An ominous fortune indeed - I hope that cop thought about me when he saw the final score of the game.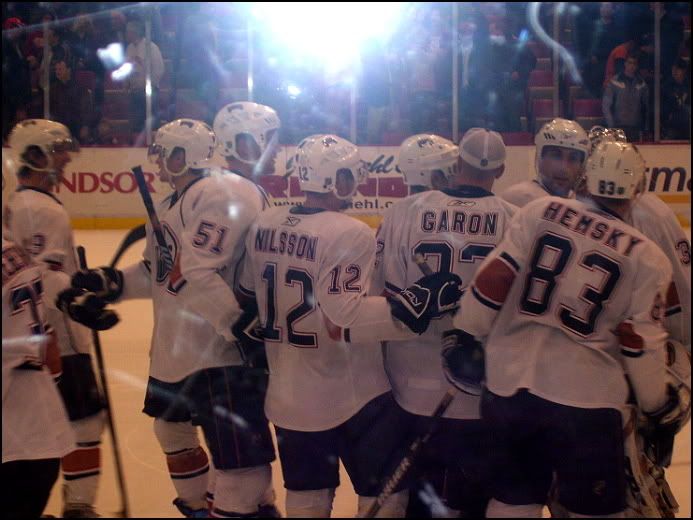 The game itself was a great one to watch live - not necessarily because the either team played spectacularly (in fact, several of the Wings especially looked to be a little bit off their games), but because the two teams looked relatively evenly matched.

I won't lie, while the Wings are still my #1 team, I spent most of my time yesterday watching the Oilers, because I only get to see them one a year or so. I was particularly happy to see Dwayne Roloson look sharp and make a few absolutely key saves after seeing him slip in comparison to backup Mathieu Garon lately. I can't argue, of course, with my boy Ales Hemsky not only notching the first Oilers goal of the game, but also proceeding to win the game for the Oilers in the shootout, which they are now 9-1 in this season. He even got a brief chance to play goal, when a shot early on took Roloson far out of the crease, and Hemmer stepped in, looking like a deer in headlights, but managing to make at least one save to help out while Roli got back into position. Not to mention he gave me a couple beautiful photo opportunities.


Hasek, who is from the same Czech town of Pardubice as Hemsky had
this
to say:
"That kid (Hemsky) is from the same town I'm from," Hasek said of his fellow Pardubice, Czech Republic, native.

"I know he's a skilled player. There was a tiny hole, not much room, but he made a very good shot."
If you live in the Detroit area, be sure to check out the Detroit News article, which features a nice shot of "Alex" Hemsky from the game last night. Thanks, proofreaders - you guys keep on making journalism look professional, okay?
As for the Wings,
Henrik Zetterberg
had a good night, picking up two goals, while
Pavel Datsyuk
was held pointless.
Dominik Hasek
had a decent evening, despite a scare early in the third period when
Shawn Horcoff
crashed the net and caught the goalie with his skate, knocking him breathless for a few moments. The loss ended a 7 game win streak for the Wings, but with home games against the Panthers (Saturday) and the Capitals (Monday) coming up, they'll have the chance to bounce back quickly. As for the Oilers, they're pitted against Vancouver on Saturday and have started this road trip off well, so I hope it continues for them.
If you're interested, I have some more photos of yesterday's
warmups
and the
game itself
that you should be able to access via those links.