First of all, a note for those of you in the area who have never had the bright idea to park at Greektown Casino in the free parking before a game and People Move your way on over to the Joe: It works wonderfully and saves you $15 of parking in the Joe's lot (minus 50 cents either way for the ride). It even took what I believe was less time than sitting in the Joe's parking lot waiting for traffic to clear so you can get out.

I snagged my usual seats in section 119 for the evening but actually ran back and forth to get pictures of both teams during warmups this time - I think the Wings weren't feeling the love after the snub I gave them at the Oilers game - and wound up sitting upstairs during the third period. This jerk named CapsChick made me promise I'd even wear my Caps training camp shirt, so I did. (With, of course, my Wings jersey on firmly over it as soon as we finished documenting the evidence - do I look thrilled?)

The game was a joy to watch - after seeing the Twilight Zone hockey that was played on Saturday night, I (and I'm sure many other fans) were expecting something like a blow out against the 29th place Capitals. Fortunately for those of us there, instead it was a great back and forth game, even if the Wings were playing below what we've seen and the Caps above in order to make it that way. The Caps prevented the Wings from getting a strong forecheck going and made getting the puck out of their zone look positively easy at times - They also kept almost even with the Wings for shots on goal, which is something teams have had a really hard time doing lately.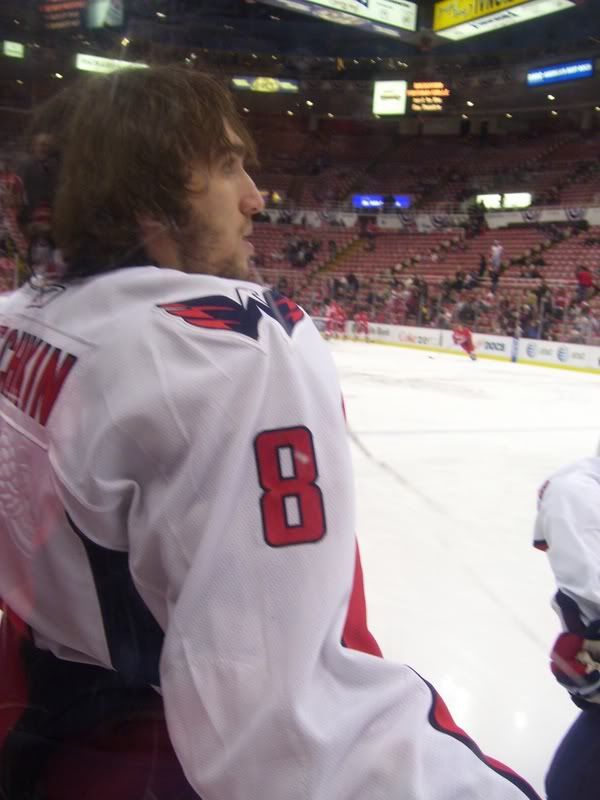 Ovie, doing his darndest to hang around right in front of me and keep the photographer man busy getting in my way and stopping me from getting pictures.
The Wings struck first, with
Tomas Holmstrom
briefly tying
Alexander Ovechkin
's league-lead in PP goals. Unfortunately, Ovie didn't really like this idea, putting one in right off of a faceoff a few minutes later. It was interesting to watch the way the Wings played Ovechkin all night long - several times we saw him make his way into the zone, and the Wings D was determined to strip him of the puck before he could do any damage. They did a great job of playing the body rather than the puck when necessary and
Chris Chelios
especially robbed Ovie of the puck nicely. And they say he's too old and slow.
Andreas Lilja
, however, also made a couple nice moves on him. The Caps, for their part, weren't as effective at holding off the Wings' big line, but they didn't let themselves get walked all over, either.
Before the second period, Ovie took a little lap around the Wings' side of the ice. Zetterberg found him there, had a friendly chat with him, and then sent him off with a nice um, pat. (The ref promptly dragged Ovie over to the bench and presumably told him off for his wandering ways.)
Ovechkin wasn't the only force, though - while the second Caps goal was a fluky one dumped in by
Jeff Schultz
(eventually matched by
Henrik Zetterberg
tallying yet another, and the Jumbotron showing us the Zorro Z slash, which might be my new favorite reason to love the Joe, and then overtaken by Holmstrom with his second of the night), their third of the evening was all
Alexander Semin
, who took advantage of a delay of game penalty with only 94 seconds left and tied it all up bringing us to a scoreless OT...and another shootout.
Seriously guys, if you want a game to go to a shootout, bring me along.
A lot of Wings fans around me were ragging on Caps goalie
Olie Kolzig
for his poor performance in the shootout - but really, he looked great all game (better, perhaps, than
Dominik Hasek
, who still hasn't quite found his game, but who did make a brilliant save on what could have easilly been a game-ending Ovie shot in OT), and against a lineup of
Pavel Datsyuk
, Zetterberg, and
Jiri Hudler
(all of whom went with backhands, and all of whom scored to take down the Caps for whom only Semin put one in, though
Viktor Kozlov
rang a scary one off the top bar), it's hard to blame him.
And just because I've found myself rather attached to them ever since training camp, I feel I have to mention that both my Capitals favorites
Milan Jurcina
and his little Czech friend
Tomas Fleischmann
had great games (enough that that I even made a little napkin sign for Flash...which I'm not sharing).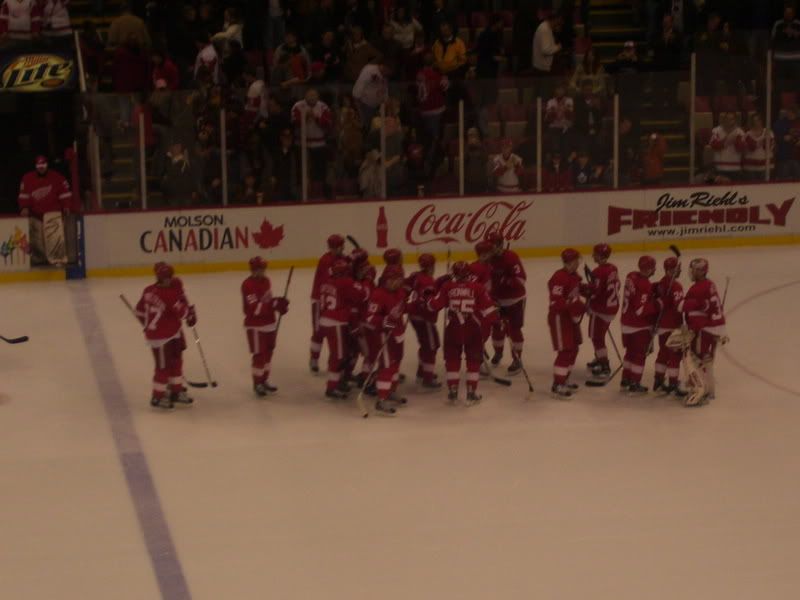 Victory!
The victory brings Detroit to 5-0 against Eastern teams this season - a nice stat indeed. If you're interested in more pictures and don't mind sifting through a few dumb ones of my friend and I at post-game dinner, the ones I took can be seen
here
and
here
.
This Wednesday night the Wings finish off the homestead with a game against the LA Kings -
you
guys
ready for this?