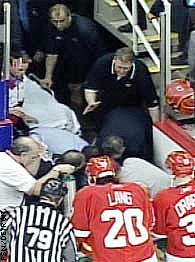 A year ago Tuesday, just after coming off of a shift on the ice, Jiri Fischer collapsed on the Red Wings bench in the midst of a sold out arena full of people there to watch the Wings at the Nashville Predators. In the middle of a play, a commotion including Mike Babcock yelling for the medics drew all eyes to the bench where the Czech defenseman was fighting a seizure during which his heart stopped. While the arena full of fans looked on in panic and confusion, Steve Yzerman and Kris Draper skated a stretcher across the ice while Brendan Shanahan and Robert Lang did the same for his fiancee Avery.

Fischer's life was saved thanks to the proximity of the medics--something that might not have occured in any other NHL arena. However, he's been off the ice in terms of official games ever since, and it's still unsure if and when he might return.

"I wasn't scared about the abnormality. But I was scared about not playing hockey again. That was a shock for me."

So Fischer said in 2002 after initially being diagnosed with a heart abnormality. These days, however, Fischer's resigned to the idea that he might never play again--but it certainly isn't stopping him from trying. He's now spending his time trying to figure out just what went wrong and caused the heart irregularity, and working to once again return to the NHL. Fischer's even working out daily at the Joe Louis Arena--somewhere most people in Fischer's situation would more than likely want to avoid. He claims, however, that it's uplifting and has helped him in his recovery.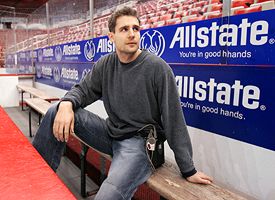 The Red Wings just finally put him on long term IR last week, freeing up around 3 million toward their salary cap--but the length of time they waited before even doing that said a lot about their commitment to the Czech. It's a good move, if an unfortunate one--the Wings need that money to deal with the losses they've experienced so far this year. Manager Ken Holland has said, however, that the Wings would
spare no expense if Fischer believes he's recovered enough to explore a return
. The amount of dedication from both player and team really stands out--it's too bad the future is still so indefinite when it comes to Fischer's return. Not only could the Wings use his skill--(remember
that hit that put Daniel Sedin through the plexiglass
?)--but his spirit could go a long way right about now.
It's really just unfortunate to see something like this happen to a player--watching the recaps of it are still unsettling and upsetting even now, a year after the fact. The Wings are playing strong in spite of--or perhaps even, in some sense, because of--Jiri's absence lately, but he's still missed, by team and fans alike, and everyone awaits his hopeful return to the sport. Jiri, however has other, more important, priorities:
"Right now, many people come up to me and they feel sorry for me. They say, 'How are you doing? I hope you can play one day.' I say, I hope I can get healthy one day."
Being the only one of three cases involving the same symptoms to survive, Jiri Fischer most certainly has things to be thankful for this afternoon. Whatever happens, Happy Thanksgiving to everyone, and we miss you Jiri!