Last night, some friends and I traversed back up to Grand Rapids to catch the Griffins again, having not had enough of hockey, $1 beer, or Darren McCarty. We were to be disappointed by the final score (4-1 Manitoba, though the Griffins blanked them 1-0 this evening), but certainly not the game itself.


I took longtime friend Nancy to her first hockey game - she cheered for the beer, and for McCarty's fight. (Also note, the scarf I'm wearing was made for me by the wonderful Connie! Thanks so much again!)
The Griffins roster is a little decimated right now as well, considering
Kyle Quincey
,
Jonathan Ericsson
,
Garrett Stafford
,
Jimmy Howard
, and
Mark Hartigan
are all playing with the Red Wings right now, but the game was a scrummy, entertaining one.
The single Griffins goal was scored by the newly acquired
Francis Lemieux
, formerly a Hamilton Bulldog, who's looked excellent in all thre games I've seen him in this season (two with the Griffins; one with the Bulldogs). McCarty looked good again as well - he hasn't regained as much speed as would be nice, but then again he never was the fastest skater on the ice, either. He didn't score, but he did fight (which I hear he repeated this evening as well):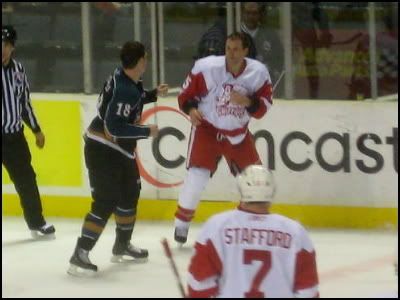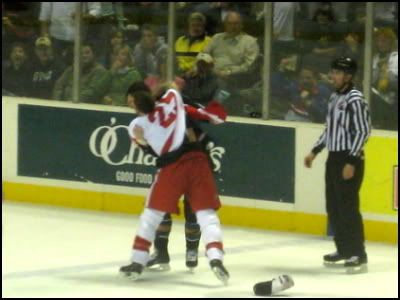 During the pre-game I was standing next to a little girl with a sign that said "Darren, it's my birthday, give me a hug." She didn't get her hug, but McCarty smiled at the sign (it took him a serious excess of time to read it, and he looked perplexed at first - I wonder about his reading comprehension skills) and tossed her a puck. It seems he's been going out of his way to interact with the fans, which is only making his comeback bid more endearing to everyone involved. As of today, the Red Wings have
offered him a contract
for the remainder of the season
I was hoping to see
Cory Schneider
in net, but
Drew MacIntyre
started instead (the announcers tried may times to convince us to cheer "Druuuuuuuuuuu" - at first I thought they were teaching us the "you suck!" goalie jeer, but nope...who knows) instead, and the only other player I recognized was
Jason Jaffray
. I don't know much about the Moose, but I will say that the moose antlers on the numbers on the backs of their jerseys are one of my favorite design quirks ever.
For more pictures, including lots of McCarty, check out
this gallery
- here's to hoping the Griffins' 1-0 victory over the Moose will transfer to the Red Wings as they take on the Canucks this evening.