Due to some (seriously ridiculous) issues regarding my television set, I missed the first period of the Wings running over the Coyotes Saturday night - I rectified this almost immediately and there was beer and stale cupcakes for all involved, but I didn't get to blog about it like I intended. (I did, however, go to a party wearing my Legace jersey and get called "Manny" by two drunk boys all night long.) Really, though, there wasn't much to say - nice to see Hasek back and not whining about his sore wrist anymore, and we played fairly decently.

Once again all our goals pretty much come off of that first line though - that's going to start being a problem, and I'd venture a guess to say quickly. The other lines, despite how we lauded ourselves for being a four line team earlier in the season, for having all this depth that was what kept us floating when everyone thought we'd fall back this year, have sort of...stopped. I've forgotten what it looks like to see someone other than Hank, Pavel, or Holmstrom nail a big one. Maybe Babcock needs to try mixing it up a little - give the Young Guns some more time, they certainly seem to produce when they're allowed to. As amazing as the Eurotwins are, if we do nothing but rely on them heading into the playoffs we're headed for the same choking as always...

---


I'm encroaching on Elly's territory here, but I've been watching a lot of the Pens lately. I caught NBC's Saturday game, though I didn't take notes, and this afternoon (in the middle of my Studies in the Novel class, I might add) comcast live was showing the Pens/Islanders game and despite the fact that I was oh so thoroughly interested in a riveting discussion on the land of the Houyhnhnms, I thought I might maybe give the game a chance. I only saw a bit of the first and the later two periods, and it was awfully hard to tell what was going on with no sound, but in the way of observations I ended up with:
Both teams were looking feisty - and rightly so, the Islanders needed this to maintain pace with Toronto, who they're now tied with, though they have a game in hand. It was a very physical game going on, in a sort of scrappy sense. Lots of storming the net and people falling over - and fighting on top of DiPietro - and what was that little jab of his on Talbot?
Ohhh. Marc-Andre Bergeron. How weird it looks to see you in an Islanders jersey... The Oilers only
tossed him out
yesterday in exchange for Denis Grebeshkov, who they won't even actually acquire until he's through playing this season with Yaroslavl Lokomotiv, in what looked like a sort of odd move on Lowe's part. Speculation continues - has he given up on the season? Are the Oilers officially sellers? Was it to free up cap space to resign Ryan Smyth? Either way he looked good this afternoon with two assists to either spite the Oil, or just prove to the Islanders that sometimes he can do something right. Either way he's looked better in 60 minutes as an Islander than as his last several games as an Oiler.
Islanders exploded out in the second - something made them realize this was a game they wanted to win. Somewhere in here I laughed at the Islanders girls.
That first Isles goal at the beginning of the third right over Fleury's shoulder was weak and he probably should have had that (from what I saw anyway) - and I missed Malone's hat trick thanks so much lecture on Crime and Punishment.
MAB actually just had some really nice puck handling in the third. And when he finally fell over he even got the thing to another ISLANDER, I'm so proud!
The Pens have been making a habit of these back and forth games lately. Okay maybe really I'm only thinking of two, but still. They usually manage to pull out on top of them somehow, though not tonight. That last goal was another Fleury maybe should have had, but the way they came at him you can't necessarily blame him, either. The whole bench was just looking at the ice like "There's no way that just happened."
And Bergeron experiences another thing he hasn't been doing with the Oilers. Sigh.
---
Extra!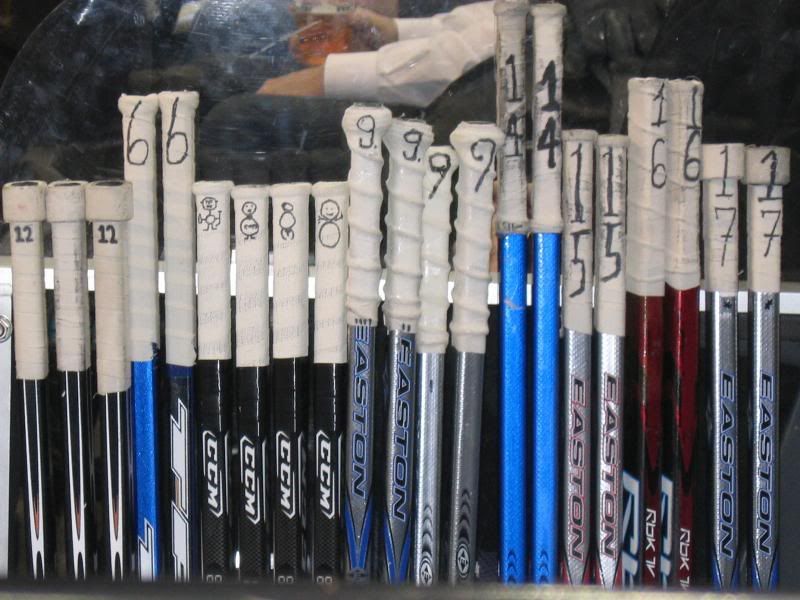 Lastly, this has been cracking me up all day. Take note (and definitely enlarge that image or you won't get the full impression) of Ovechkin's sticks. And if that isn't enough to make you laugh (and give the kid some endearment points), there's an article that gives a bit more insight as
Alex explains
his little drawings. Maybe those "hockey players are just like us" commercials have the right idea?