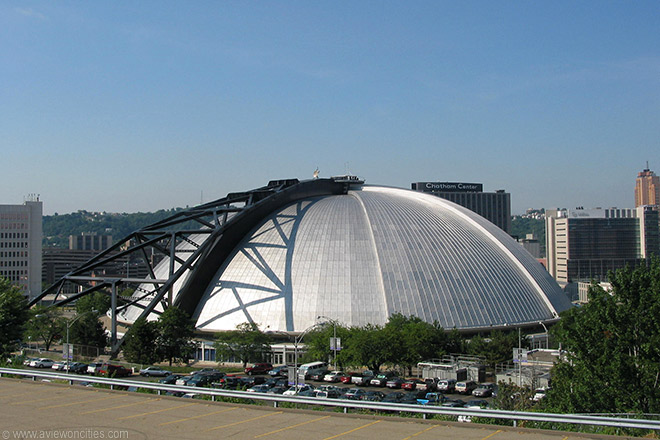 This is it.

Tonight (rumored to be at 6pm) a meeting between government officials, Bettman, and the Lemieux group, is going down in Philadelphia. They will decide on an outcome to the Penguins' relocation rumors and the arena deal. As a source at TSN said of tonight, '''closure, one way or another.'''

I can't eat, my stomach is in knots, I had nightmares last night...and tonight I'm going to be at work until 12, constantly looking up at the TVs and hoping I don't trip over anyone. Our cable is out, so I won't get the game (not that I could watch it very well, but at least it would be there), and therefore I am hoping that they do not announce anything, either way, until I get home where I can cry in peace.

Did I mention that my bartender tonight is a Flyers' fan?

CBC brings up an interesting point in asking if the Penguins' ownership group intends to sell anyhow, why load the bases in the 9th and then stick in the ball boy to bat? Mario took the team off the market with his 'take destiny into our own hands' speech, but does that mean that he was just fed up with everyone else or that he really didn't want to see the team in someone else's hands? He's led the Penguins through thick and thin, and saved them financially and franchise-wise several times, it seems only natural that he would want to be there at the reigns, directing where his little ice-skating family goes. I'm not sure if he still wants to sell, and who could blame him if he did after fighting with an apathetic government for years, but I'd like to think that if that is the case and he isn't just feeling nostalgic, he'd like to see the Penguins settled in Pittsburgh and happily on their way to a third Cup before handing off the boys to someone else. He's been there for them for a long time, and I don't see him abandoning them anytime soon.

A few quick Pens links:

-Want to read a ton of comments from people saying that the Penguins need to stay in Pittsburgh? Well, the Trib has you covered.

-The Allegheny Institute says that they can build an arena without the Penguins...and then try to bribe another hockey team to come in. Right, drive a franchise with a 40 year old fanbase of die-hard fanatics out and then ask for a new team to come in.

-Coach Therrien's papa passes away at 77. He'll be at New Jersey tonight, but will leave shortly thereafter to go and be with his family in Montreal. Our condolences.

-The players have been trying to look past all the talks, but I'm sure it's difficult to not know where you're going to be living or playing next year. I can't begin to imagine how that must effect someone's game, and the Pens really need to be on the lookout with the Devils tonight (they're 2-4 with them this year). Fleury is expected to start, but really the reason I am linking this article is for the excellent picture of Jordan at the top and the cute segment on his stick. Pterodactyl indeed.




------


Elsewhere in the NHL, the Oilers are now playing with four defensemen, 6 forwards, a 67' volkswagon, three toddlers in skates, an old basset hound, and a partridge in a pear tree. The partridge has a broken left foot. I'd call it the 'Curse of Smytty' or '94 reasons why you shouldn't trade away your franchise player', but I think that Smyth would be the first one to want the Oilers to do well and wouldn't wish them any harm...he's just that type of guy. The Oilers' management, however....well, I wouldn't be surprised if they started stubbing toes and getting their fingers shut in the doors of their Beamers. Rodger Phillips tells Edmonton fans to chill out, and that things will get better....next year. I really hope this guy doesn't live anywhere near Alberta. He also mentions that Vancouver might be looking at Smyth for next season. Ouch.

Speaking of ex-Oilers, Pronger out with a broken toe. I'm sure all of Edmonton is weeping.


Everyone light a candle for the Penguins tonight, and not just to ward off evil spirits of being frustrated right off the ice by the Devils' defense. Tonight, everyone, even Flyers' fans, need to get behind the Pens and show support. No one wants to see a great franchise move, and hopefully the boys in Philly will show us that they don't want to, either.


Please don't go, Pens.
(but still kick the shit out of the Devils)


Believe.