This is going to be one of those utterly disjointed posts in which I say a lot of little very random unimportant things about hockey that I've come across in the last couple days because they build up when I think I've spammed enough lately until eventually there are about ten things I want to mention and they eat at me until I just sucked it up and do it. Also, I apparently have to have something to do with myself during the commercial breaks while I take advantage of Spring Break meaning being home where I have Hockey Night in Canada at my disposal. So, here we go!

Yesterday at the game I ran into Christy from Behind the Jersey and didn't even realize it at first - but both of us saw the same row of empty front row seats on the glass and thought it was too much of a tragedy to leave them empty. More importantly, after we got kicked out of those seats, she trekked over to the other side of the arena, while my friend and I just moved back a couple rows - and she got a front row view of Nik Lidstrom with his 200th goal and even made the paper. Congrats Christy - we should have followed you!
I nabbed this gem from On the Wings, but it might be my new favorite Mike Babcock quote ever (certainly one of the more simple, coherent things he's said). Speaking on Jason Williams' two goals against his former team:

"It's good to see him score, too. What the heck."
Finally I noted this little blurb thanks to Ansar Khan, but apparently last night my little rookie Jiri Hudler got confused because the Wings were wearing their away whites to accommodate Chicago wearing their black jerseys, and showed up for warmup with his red helmet on, which got a laugh out of the Wings and Blackhawks both, until Robert Lang finally informed him of his mistake. Considering I do almost nothing during the warmups by try to nab the best pictures I can of the kid, I decided I probably had photo-documented evidence of this, and upon going back through them I realized indeed I did: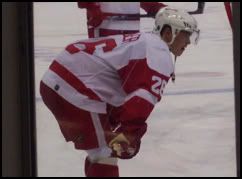 There he is right out of the dressing room with the red helmet...I lost him for a second after that, and when I noticed him again (though I didn't catch this at the time) there he was with the white helmet. Maybe he predicted that I'd laugh at him when I realized this, because before disappearing off the ice he took a nice last slapshot right at my face.
I watched the Toronto/Buffalo game and wasn't thrilled by the end result - but I was ridiculously glad to see Darcy Tucker back after so long. Raking Leafs has everything I could say on the Kaberle hit yesterday already covered, and also mention the one thing I do love about it - watch the video, grimace at the awful hit, and then notice Darcy, who didn't dress for the game, come out and bitch out Janssen. I'll always love him. Also to note, Sherry of Scarlett Ice has discovered the secret behind Campbell's disciplinary methods. If only it weren't so true.

Don Cherry was dressed very tastefully tonight - and with a tie of Blue. It was really kind of precious in this bizarre way that I don't really want to think of Cherry in.

The Oilers played Flames tonight in only the second Battle of Alberta I've actually been able to see this year. It was nice to get to see them in those retro jerseys. I'm worried about Hemsky after that hit in the first - it didn't look bad but he didn't return, and that's the last thing they really need right now. (Maybe, though, he just realized how unbecoming the retros are on him...kidding, kidding. Ales is always gorgeous.) More importantly, I think this game requires a nice big round of PISAAAAAAAAAAAAAAAAANI! And a link to this. Man, if only he could get back whatever he had during the playoffs last year again...
I hate Calgary a little. But I love those announcers for the phrase "activate your stick".

Drea of MWORO pointed out to me this afternoon, in what is almost a neat little segue from talking about the Oilers, that if you google Ty Conklin, you pull me up on page three. So in a bemused attempt to bump myself up a bit, I bring you two things I managed to dig up today, the first being Green Bay Gamblers bobbleheads (no, seriously), and the second a story that ran in the Portsmouth Herald back in 1999 and I defy you to tell me there's nothing cute about it:

"Ty has always been a little spacey," [his mother] says.

"Lynn was driving Brian and Ty to a game. They were about 10 years old," Beth Conklin says during a telephone interview from the family's home in Anchorage. "Brian was always extremely focused. He would get into the zone before games. He was sitting in the back seat looking straight down and Lynn asked him what he was doing. He said, `I'm getting into the game.' Ty thought that sounded pretty good, so he said, `I'm getting into the game, too.' And he started looking down.

"Well, about three minutes later, Ty's head pitched forward. He had fallen asleep."
And with that I think I've probably covered just about everything, or at least I've determined this to be far long enough already.