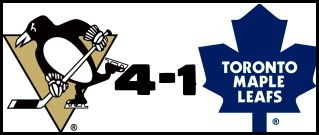 Elly was gone tonight, so I'm blogging the game--for a recap from the Pens side of things, make sure you click on over to The Pensblog where Adam's got it covered. (As a sidenote, I said this was probably going to be shorter than usual thanks to my feed of the game sucking. Apparently I'm a kickass liar.)


---

The Toronto Maple Leafs have been struggling on the road lately (actually...where haven't the Leafs been struggling lately?), but they still had a
seven-game winning streak
against the Pens at Mellon (Maybe someone Torontonians should bank on that with all these relocation arguments--we can hope, right? Not after tonight) that's now been tossed away (like most of their meager winning streaks quickly are). This is far from a perfect recap--the only way I'm got this game is a combination of some p2p network broadcast and Leafs radio for the intermittant feed failures on that--but the way the Leafs have been playing lately maybe that's a good thing.
Toronto, still wracked with injury (Peca out 3-4 months, Tucker, Poni, Wellwood and I believe Antropov all out as well), in a show of what is to come for the rest of the game, takes only 2:38 to gift-wrap a powerplay for Pittsburgh, and then Stajan joins Newbury in the box to share secrets on how to take stupid penalties just over a minute or so later. The Leafs have given up very few goals when down two men (I believe the stat is one in sixteen but I'm not positive). Unfortuately they take so many stupid penalties and let so many goals in on regular powerplays that in the end it doesn't really help that much.
The announcers make a point of
Pittsburgh's questionable faceoff winning skills
--and admittedly the percentages aren't particularly high (Christensen 59%, Crosby 50%, Malkin 44% are their top three). For a while, Toronto uses thisto their advantage. Taking so many penalties hurts at least a little less when you can win faceoffs and keep the puck out of your zone, and Pittsburgh barely won any in the first period. Unfortunately, though, that can't fix all of Toronto's problems, and Christenesen gets a goal off of Crosby just before the end of the first.
The Leafs major downfall in the first period seems to be that they couldn't get anyone in a scoring position. There were several nice opportunities but never anyone there in front of the goal to take the pass and knock it in--and they need to fix that. They don't have much choice, with all the injuries, when it comes to having to play a scrappy game, but it's yet another problem to be fixed.
BRIAN MCCABE'S END OF FIRST PERIOD STATS:
SV% - 1.000 GAA 0.00

(This may also be a problem.)
Period two, the Toronto announcers have taken that knocking off of McCabe's hat by Evgeni Malkin to astronomically ridiculous levels including comparing Malkin's "illegal stick" to the one in that Molson Beer Commercial that I can't seem to find on youtube yet. They get a little bitter when we're losing, I think. I'd love to hear Don Cherry's opinion on that matter.
The Ruutu/Ondrus fight wasn't as entertaining as the one that happened in the audience--and they didn't even show that one. I heard there were four ushers on one guy, who was definitely evicted from the stadium.
Right around that first (and only) Leafs goal, my feed was cut into by a couple random guys apparently trying to broadcast on the same station that this game was running through and not realizing that they already were--so rather than the announcers, I heard "It says you are attempting to log in to an extension that is associated with another....something....should I go ahead and YES NICE FINALLY!" the likes of which which persisted throughout most of the rest of the period, resulting in the actual game audio sounding like it was running through a tin can. Needless to say I missed a large chunk. "THERE YOU GO, THERE YOU GO, BUST TO THE FRONT OHHHHHH!"
Toronto didn't take a whole lot of penalties in period two, so they immediately make up for it at the start of the third--and it only takes 53 seconds for Gonchar to capitalize on it. 2-1. And then a few minutes later Kubina "throws his stick" and we're back to penalty killing yet again--great way to come back from a goal deficit. Just as I was about to write something about how I expected to see the Pens attacking more, the Leafs effectively fall apart, and Malkin scores. And spins around and does some sort of little victory dance that's remarkably cute. Toronto loses every game because of their inability to avoid stupid penalties.
Just in case we had any dreams of coming back from this, Eric Staal scores to bring it up to 4-1. Aubin's had enough and tosses his stick over the net, which spirals almost prettily and I find myself captivated. He skates around and picks it up a second later, but damned if it isn't ever a sign that the man's given up, and that was the last straw. I distressingly find myself cheering that at least it wasn't on the pp. The Leafs apparently realize the pain I'm in and take another penalty a minute later. They come off this one just in time to let Devereaux miss the prettiest scoring opportunity of the game. Not to be deterred by this near-success, not a minute later the kid's in the box for hooking.
And there you have it, folks, a 4-1 victory for Pittsburgh, and Elly not even here to see it.
Random notes that may or may not pertain to the game!
-A big deal was made about keeping Crosby off the scoresheets, considering the lackluster Pens record when he doesn't nab a point--0-28-1. This begs a question about whether or not Toronto understands that assists count too--he had three of them.
-I would have thought TSN would know better than to pronounce it "Ev-jeeni". Someone get the announcers a list of all the players in IPA format.
-Eckman gets nailed, jumps off the ice at the far end, and the Pens throw another man on the near from their bench--of course an illegal substitution/too many men on the ice, but what a weird situation.
-I like Mellon Arena--I mean the place has a history. But every time Louie, Louie as played by an organ happens, I just cringe a little bit.
-I can't help but mention Carolina playing Anaheim tonight--I think it's the first time I've ever possibly wanted the Ducks to win anything, and they let me down. What a tough decision though.
-While we're on the topic of Carolina, I have the utmost respect for the guy who painted all these
likenesses of Rod Brind'Amour
. It had to be hard enough to paint them (and let's be honest, he flatters the guy) but then to be
hugged
by him on top of that? Stomah of iron, I tell you,
iron
.
-
This
Hockey News magazine cover amused me for about five times as long as it should have. It also provoked me to go looking for Ovech pictures even though that's generally far from my mind, but
damn
, there's something inexplicably cute about him here. (So I figured out how to get the nice huge pictures from sportsline tonight, so sue me.)
-Last but not least,
Manny wins tonight
, moving the Blues to 9 games straight without letting in a single first period goal.